My Search for Meaning: The Myron Stories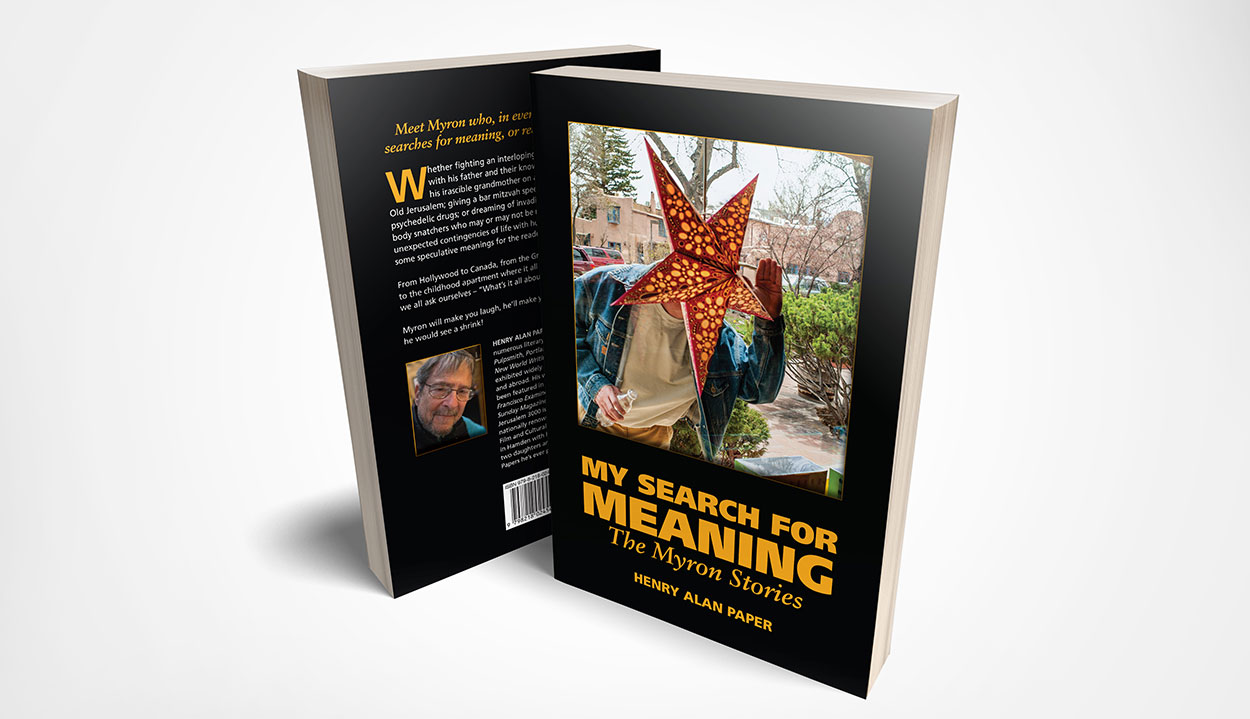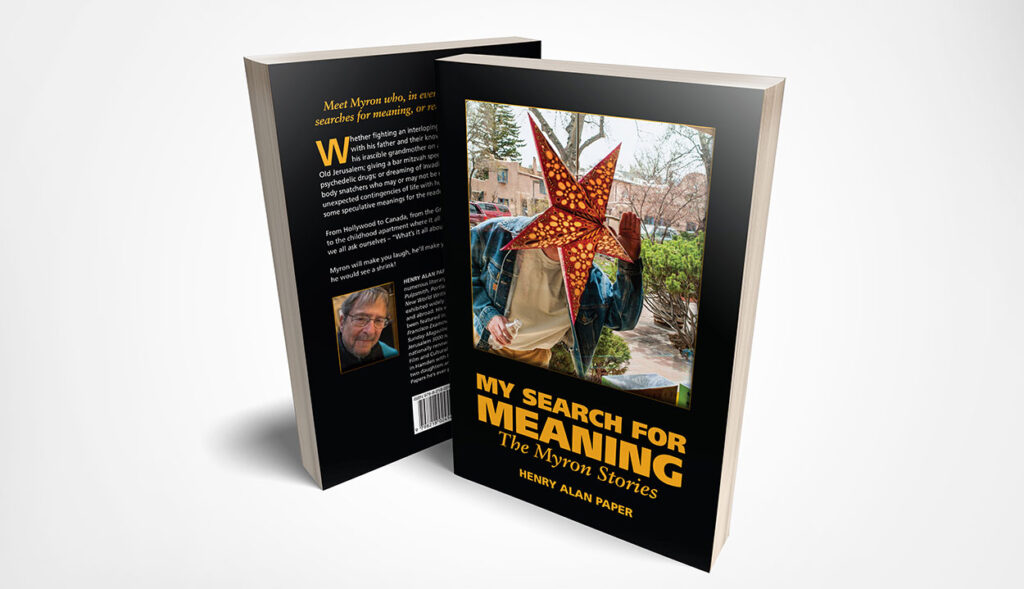 "An irresistible mix of humor, beautiful writing and clear-eyed observations, a cracking read." – Judy Stavisky, MPH, M.Ed, In Plain View: The Daily Lives of Amish Women
My Search for Meaning: The Myron Stories
PREVIEW & ORDER HANK'S BOOK BELOW
Whether fighting an interloping bear in his basement with his father and their know-it-all neighbor; leading his irascible grandmother on a hair-raising tour of Old Jerusalem; giving a bar mitzvah speech after a morning of psychedelic drugs; or dreaming of invading lobsterwomen and alien body snatchers who may or may not be real, Myron confronts the unexpected contingencies of life with humor, pathos, and, yes, even some speculative meanings for the reader.

From Hollywood to Canada, from the Grand Canyon and Jerusalem to the childhood apartment where it all began, he asks the question we all ask ourselves – "What's it all about?" Myron will make you laugh, he'll make you cry, he'll make you wish he would see a shrink!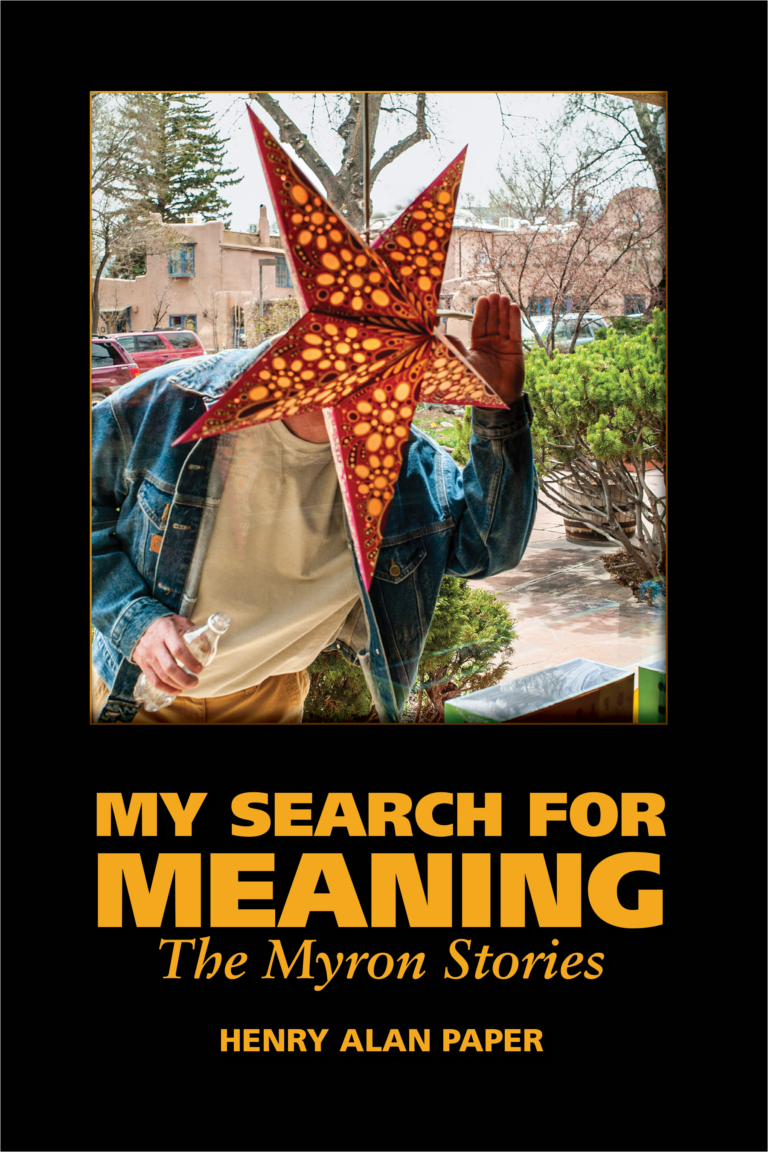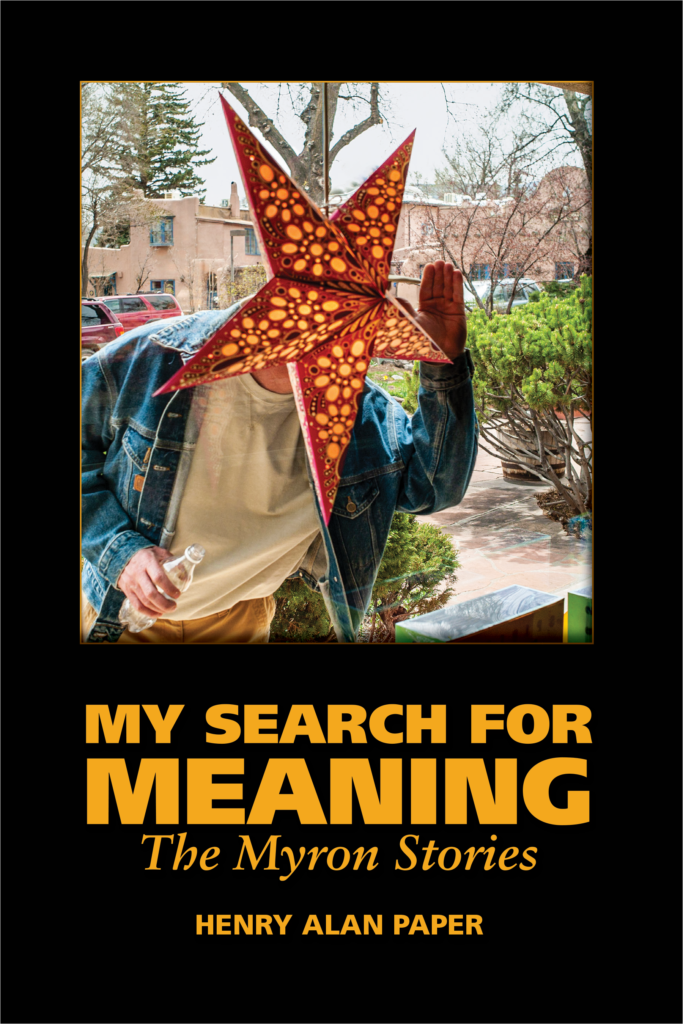 MY SEARCH FOR MEANING:
THE MYRON STORIES
6×9 paperback, 162 pages
$15.00 (+ $3.65 shipping)
Contact Hank to Order Your Copy Now
HENRY ALAN PAPER's stories have appeared in numerous literary magazines, including The Sun, Pulpsmith, Portland Monthly Magazine, and New World Writing. His writing and photography have been featured in Connecticut Magazine, The San Francisco Examiner, the L.A. Herald Examiner Sunday Magazine, and Hadassah Magazine. He was the founder of nationally renowned Best Video (now Best Video Film and Cultural Center in Hamden, CT). He lives in Hamden with his wife, not too far from his two daughters and two grandchildren — the best Papers he's ever produced.

---
PRAISE FOR
 MY SEARCH FOR MEANING: THE MYRON STORIES

No one unwraps a quiet moment like Hank Paper. From bullies to "endlessly hopeful basement projects" to bears in disguise to apocalyptic lobsters, Paper's extraordinary life passages in "Myron Wears a Badge" are rendered as war stories–funny and wise, next-door and knowing. "Who says nothing happens in suburbia?" You'll love the fastballs: "She still thinks science fiction is the only unflinching assessment of our contemporaneity." But beware: dreams are under construction here. The implied reader is the children who will lead us back to a kind and generous world.

— Colin Sargent, Novelist (Red Hands), Poet, Playwright, founder
and editor of Portland Monthly Magazine
• • • • •
Look no further than Myron for depth of feeling, a sense of wonder, an appreciation of the grandeur of our world and a knife's edge irony. A rewarding immersion in character and circumstance, acutely described.

— Robin Roger, Psychotherapist, Book Reviewer, Contributor to Jewish Fiction, Former Associate Publisher of The New Jewish Press
• • • • •
Often hilarious and unexpectedly affecting, My Search for Meaning: The Myron Stories seamlessly transports the reader on a spin through the author's interior and exterior life. With evocative descriptions from another time and place, Myron shuttles his ornery grandmother through Israel, undertakes a wild misadventure searching for missing a DVD player, ponders his being "in the yawning abyss of the Grand Canyon," and later, negotiates the thorny task of conversing with his aging mother, and revisits a childhood TV hero. An irresistible mix of humor, beautiful writing and clear-eyed observations, a cracking read.

— Judy Stavisky, MPH, M.Ed, author of In Plain View: The Daily Lives of Amish Women and coauthor of Do It Better! How the Kids of St. Francis de Sales Exceeded Everyone's Expectations
• • • • •
In this beautifully written and poignant collection of short stories, Henry Alan Paper explores the mysteries of life.

Asserting a voice that is deeply personal and honest, he introduces us to Myron, a fearless explorer and remarkable storyteller, who shares valuable insights into the hardships, the happiness, the mysteries, of family, friendship, and just plain old living and getting through a day.

Sometimes bursting with whirlwind energy, sometimes quietly contemplative, often humorous and always convincing, Paper gives equal weight to the seemingly trivial and the profound, with a touching humanity that ties us all together.

Ultimately Paper reminds one of Myron's "inexorable searching as a child and of what I am seeking right now as an adult."

I'm delighted to have met him.

— Judy Birke, former art critic for the New Haven Register and Art New England